REPORT: The 13th AmBank Group – SportExcel International Junior Golf Championship 2018
The 13th AmBank Group – SportExcel International Junior Golf Championship2018, fielded 148 players from eight countries took to the fairways of the Glenmarie Golf & Country Club, with the foreign participants accommodated at Holiday Inn Hotel which is within the Golf Course compound.
The 54-hole tournament featured 62 leading juniors from Malaysia and 86 international players from Thailand, India, China, Chinese Taipei, South Korea, Australia and Indonesia.
"AmBank Group played an important role in sports development, in this case junior golf. We believe that golf has bright potential and we have much confidence in SportExcel due to their long and proven track record," said Syed Anuar Syed Ali, AmBank's Executive Vice President, Group Corporate Communications and Marketing.
"Our sponsorship assist in one way or the other, our local budding golfers in realizing their dreams of one day making it as top professional golfers in not only Asia, but globally," he added.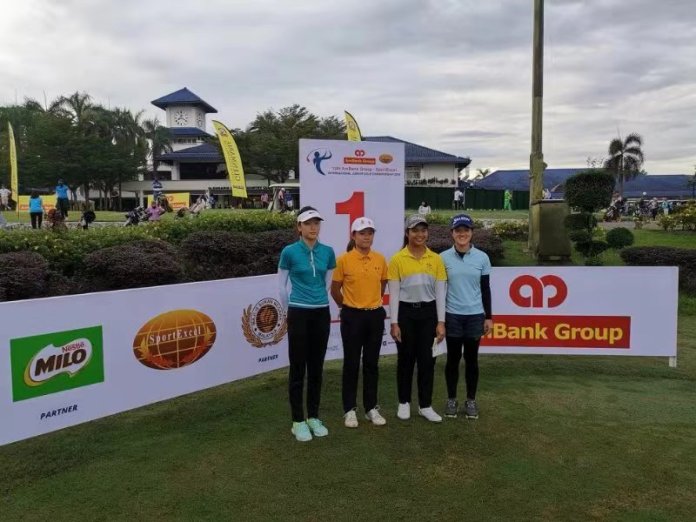 The players competed in six categories – Boys A (15 – 18 years) old, Girls A (15 – 18), Boys B (13 – 14), Girls B (13 – 14), Boys C (10 – 12) and Girls C (10 – 12).
Lin Jia Hao of China and Malaysia's Mirabel Ting Ern Hui emerged as the best overall players from the blue tees and white tees respectively for the Tan Sri Azman Hashim Trophies.
Lin won the Boys A category (15-18 years) with a total of 141 (70-71), while Ting carded rounds of 69 and 72 to match that total en route to claiming the Girls B (13-14) title by eight shots from compatriot Maisarah Hezri.
Inclement weather delays had forced the tournament to be cut short to 36 holes after the third round was suspended and subsequently abandoned.
The Girls A (15-18) title went to China's Zhang Yue, two strokes ahead of Malaysia's
Winnie Ng. China's Liu Enhua topped the Boys B (13-14).
Malaysia's Anson Yeo won the Boys C (10-12) title, while Thailand's Pimpisa
Rubrong dominated the Girls C (10-12) category.
The team event for the Tunku Imran Cup was won by China with 443 points.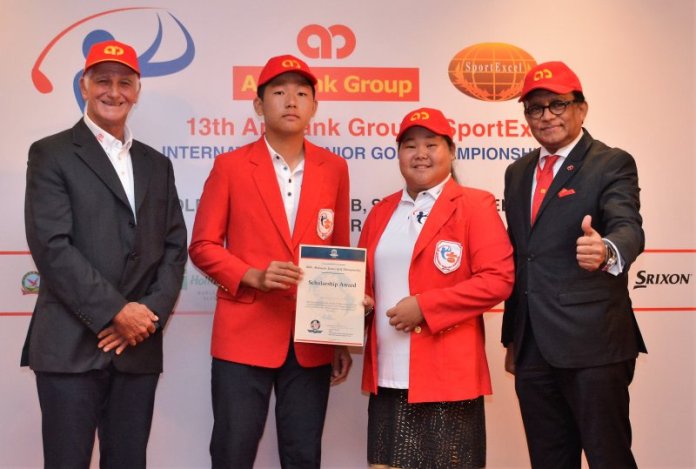 2018 ambank ijgc lin JH gave his 1 year Hills scholarship to Mirabel

Five players were presented with scholarships offered by the Hills Golf Academy in
Australia. The recipients were selected by a panel.
1. Mirabel Ting Ern Hui (Malaysia) – 1- year scholarship
2. Jeevanraj Gunaseelan (Malaysia) – 1-month scholarship
3. Malcolm Ting Siong Hung (Malaysia) – 1-month scholarship
4. Maisarah Hezri (Malaysia) – 1-month scholarship
5. Suttinon Panyo (Thailand) – 1-month scholarship
There was very good publicity of the championship in the print, electronic and social
media. The title sponsor AmBank Group, were very impressed with the quality of the
organization as well as the publicity.
For 2019, there is a possibility for the tournament to be brought forward to August /
September to avoid the rainy spell. We (SportExcel) will need to discuss with the
Sponsor regarding the change of the date for 2019, said by Mr. Sivanandan Chinnadurai, Organizing Chairman & Executive Director of SportExcel.
Report by
Sivanandan Chinnadurai
Organizing Chairman & Executive Director of SportExcel